Regularly I am asked, what do I need to get started? What is your favorite diffuser? What is safe for kids, etc. What are the best brands?
There are many great options and every family has its goals. Here you will find some of my favorites and most recommended products.
Essential Oils
Essential oils are beautiful and alluring. If not careful, it's easy to find yourself with 25-50 essential oils, overwhelmed and straining the family budget believing that "there's an oil for everything" and purchasing to have on hand "just in case."
The great news is that all essential oils are multi-taskers and it is absolutely unnecessary to purchase large, expensive starter kits. There is no need to feel pressured to join membership programs for discounts or to feel guilty for not choosing a particular brand of essential oils. Here you will find some of my most trusted brands for sourcing quality, pure, therapeutic essential oils and supplies, and a few great starter kits
Aromatics International offers premium, ethically sourced therapeutic essential oils and other ingredients to practitioners, aromatherapy students, and home users alike. They also have a team of certified aromatherapists available to assist with questions and purchases. They have an incredible database of recipes and batch-specific GC/MS reports, shelf-life, properties and more for every oil. Their labels include the most information regarding what is actually in the bottle plus their unique classification system. Their prices tend to be higher, but are reflective of their exceptional quality, years of professional experience, a well-educated staff of certified aromatherapist, ethical sourcing, and incredibly educational and informative website. Use this referral link and receive $10.00 after your 1st order.
My #1 recommended Top 6 USDA Certified Organic Essential Oils Set is from Plant Therapy for under $30. They also offer a fantastic Essential Oil Starter Set for under $65 that includes a carrier oil, inhalers, and roller bottles to customize to your personal liking. These collections can be used individually or in combination with a myriad of home and personal care uses.
Stillpoint Aromatics is owned and operated by a certified aromatherapist and supplier professionals, students, and home users. Their ethically sourced oils are exquisite and hand-poured to order. Their website is very educational with recipes and very detailed filters to help you find oils with the properties you seek. Batch-specific GC/MS reports are listed for every oil along with shelf-life, properties and more.
Florihana is al legendary French distillery located in Provence, France and distills gorgeous organic, pure essential oils with their exclusive "flash detente" process. Florihana provides batch specific GC/MS along with MSDS (Material Safety Data Sheet), IFRA and allergen certificates. Thankfully their entire line of products is now sold via their US website (free Fed Ex shipping with $100 order). They are also available through Healthy Traditions, the only other approved retail outlet in the US. Note that when order from Health Traditions, essential oils ship from Texas and other products from Healthy Traditions ship separately from their store.
Essential Oil Blends
Essential oil blends are a fantastic and very economical way to use essential oils if you are wanting to address a specific concern and not wanting to buy multiple bottles of essential oils to formulate your own. Most every essential oil brand offers blends. Some are pure essential oils blended together, and others are pure essential oils pre-diluted with carrier oils such as safflower or jojoba for safer skin application. Blends come in euro dropper bottles or roller bottles.
Essential Oil Tools & Accessories
Tools and accessories help you get the most use out of your essential oils. From essential oil keys to containers, no home apothecary is complete without them.
SOLIGT 3-Pack Multi-color Metal Essential Oil Key Tool Save your fingernails and your caps by using a universal essential oil key. This is my favorite. They work all size bottles, roller bottles and tops. Like reading glasses or hairbands…you can never have enough. Keep a few at home, at work, in your purse and car. They make fabulous gifts!
Roller Bottles & Funnels are a must-have for making quick and easy aromatherapy recipes to take on the go. Make your favorite recipes for relaxation, focus, energy, first aid or even perfume in genuine cobalt blue glass, amber bottles. Clear bottles are perfect when wanting to feature dried botanicals to the blend. Funnels are essential for no-mess formulating with both essential oils and carrier oils. Starter sets with combined supplies are a very economical way to build supplies or make gifts.
Glass bottles with euro droppers in assorted sizes (1ml, 5ml, 10ml, 15ml, etc.) are essential supplies. Whether making your own blends, sharing with a friend, making your own travel kit or decanting from larger size bottles, one can never seem to have enough of these little beauties.
Blank Inhalers are perfect for making an assortment of personal inhalers. They are discrete and can be made using a single essential oil or a favorite blend. You can find them with matching labels, make your own or label with paint pens or sharpies.
Travel-Friendly small pouches and key chain storage sets for rollerballs and small bottles let you take your must-have essential oils and carrier oils wherever you go – purse, backpack, car, train, plane or bus, work, vacation, sports venue, playground, amusement park, and more while protecting glass bottles and preventing spills. Create your own first aid kit, travel kit or spa on the go with these types of pouches in a variety of colors and styles.
Essential Oil Diffusers & Nebulizers
Essential Oil diffusers come in a wide range of styles and modalities. The most commonly used in the home are probably the water-based ultrasonic diffusers. The styles and features are limitless. Heat generated diffusers are available such as tealight candles and aroma stones. Popular for small spaces and travel are electric fan-operated diffusers. The ones below are in my personal faves that I use between my home, car, and office.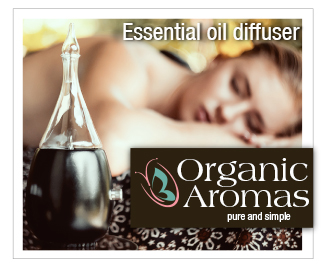 Organic Aromas offers beautiful, hand-blown glass, waterless essential oil nebulizers. Nebulizer are heatless and waterless, so you have the benefit of 100% pure essential oil diffused into your environment. They are available with hand-carved wooden and sleek ceramic bases as well as an innovative long-lasting lithium rechargeable portable nebulizer. Nebulizers are more clinical in applications as the essential oil is not diluted in any way. Run in short term, intermittent cycles. Due to the potency of undiluted oils, most find that 15-20 minutes is sufficient to cover serval rooms at once.
ZAQ Bamboo Lite Mist Essential Oil Ultrasonic (water) Diffuser turns any room into a natural spa-like environment. It is made of real bamboo, BPA free with continuous and interval mode and 3 light settings including off. Use with or without essential oils to create a babbling brook sound and it can be used as a soft glow night light even when not running the diffuser feature. See my own video review here.
SpaRoom Aromafier, and their newest model the Simplifier, are the cutest little aroma buddies ever! It requires no water and uses no heat. Powered by 2-AA batteries or USB cable, this little guy is not only very affordable but extremely travel and small-space friendly.
Car Diffusers make using essential oils easy when traveling, commuting or simply running errands. I prefer vent clip diffusers as there is no mess or maintenance. Water-based diffusers, such as these plugins or cup holder models require water and cleaning, but they do offer the benefit of some adding moisture to dry air if needed. If choosing a water-based model, be sure to find out if it requires distilled water, replacement filter, and any other required maintenance.
Aromatherapy for Children
Aromatherapy for the Healthy Child: More Than 300 Natural, Nontoxic, and Fragrant Essential Oil Blends by Valerie Ann Worwood is ideal for families who use essential oils for natural living. This book covers every age, from prenatal to teens, and has many great references charts and over 300 recipes for family life.
Personal Diffusers for Children with child-safe oils can easily be made with blank inhalers, diffuser necklaces and bracelets, and even stuffed animals.
KidSafe by Plant Therapy is the first-ever line of essential oils developed especially for children. Their convenient pre-diluted roll-ons, labeled for proper are a great option. KidSafe oils can be used by teens and adults also, making them truly family-friendly while giving parents of younger children peace of mind. Formulated by Robert Tisserand to be safe for children ages 2–10.
Award-winning ZAQ Sky Aroma is an all-in-one Mini-humidifier, Ionizer, Aroma Diffuser and Night Light featuring a sky show, multiple light modes, nightlight and no light mode with both intermittent and continuous mist mode.
Subscription Boxes
Aroma Box by The Aroma Girls is a bimonthly box filled with at least 5 full-size aromatherapy related products and plus a few samples. New subscribers save $5 off at checkout with code: HOPE5